Custom Checkbook Covers
Custom checkbook covers, hand painted pet portraits of your babies. These deluxe leather chequebook covers measure 7 x 3.5 inches. Perfect gift for any pet lover.
I will paint any dog breeds, cat breeds, any animals wild or domestic, any bird, any fish or rodent. My pet portraits earned me over 9000 5* reviews.
Boston terrier checkbook cover
Please choose your photos carefully because I can only paint what is in front of me.
Animal Checkbook Covers
I'll email you the picture of your animal checkbook cover for approval before I apply the protective coating. Your prompt reply will speed up shipping it. Upon approval, I'll glaze it for additional protection from wear and tear (after this I can make no changes). I ship insured with tracking. 
Enjoy your custom bank cheque cover and please leave a review.
Customer Comments
Robert Gray on Jun 2, 2020
A stunning blue-eyed Snowshoe cat hand painted by Danielle on the front of a checkbook cover. So nice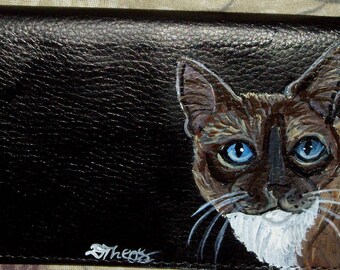 Snowshoe Cat Checkbook Cover Checkbook Holder Custom Hand Painted Leather
Stunning checkbook cover. I love it!!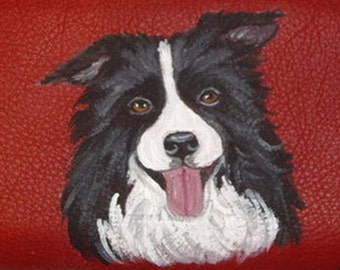 Border Collie Dog Checkbook Cover Custom Hand Painted Leather
LE on Jan 16, 2020
Beautiful. Had my 3 dogs painted on cover. Excellent.
I love this checkbook cover. Beautiful art work and fast shipping. Highly recommend this shop.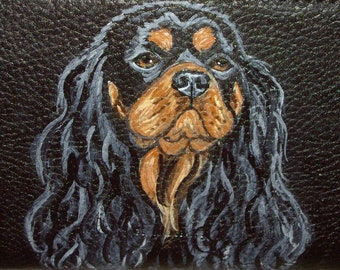 Cavalier King Charles Spaniel Dog Gift Custom hand Painted Black Leather Checkbook Cover
Great Seller. Wonderful to work with. Very very talented. Picture on checkbook cover was so close to our dog that it brought a tear to my wife's eye. Highly recommend.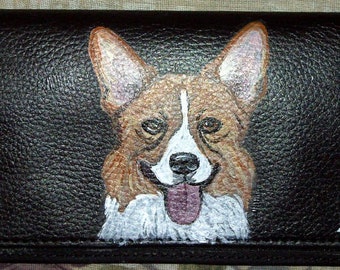 Welsh Corgi Dog Custom Painted Leather Checkbook Cover
undeed uincyq on Dec 30, 2019
I love my Australian Terrier check book cover. It is gorgeous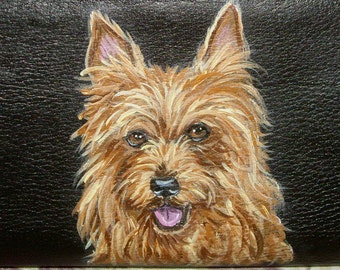 Australian Terrier Dog Custom Painted Leather Checkbook Cover