Personalized Christmas Stockings
Our custom Christmas stockings measure 16 inches by 9 inches. I hand paint the pet portraits in acrylics on a 5″ diameter attached canvas.
I inspire these astounding portraits from your pictures. Please send an excellent one showing the face,
eyes and fur color.
The pet on the large personalized Christmas stockings will look like the one in the photos, same position,
same expression.
Customer Comments
Vanessa on Oct 9, 2020 writes: I love how talented this owner is! I thought the stocking
was going to be a bit thicker but that's okay. I still love it! 🙂
Thank you so much, we can't wait to hang it up for Christmas.
Love this stocking! The drawing looks EXACTLY like my cat! I have gotten several ornaments and now this stocking from this store and I love them all 🙂
beccabiz1 on Nov 17, 2020 comments:
This was amazingly quick shipping and it is adorable. Beau loves it! Thank you so much!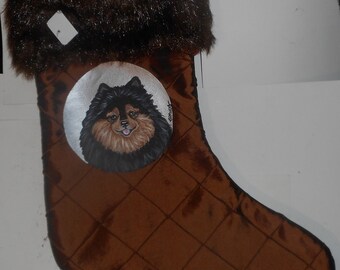 Pomeranian Dog Christmas Stocking Hand Painted
Finished product
We will email the picture of your Christmas stockings personalized, with pet portraits, for your final approval. After your OK, I glaze it. It ships the next business day insured with tracking.
Enjoy your stunning custom Christmas stockings and please leave a review.