Custom Signs 
Custom signs, wooden personalized welcome plaques, 9″ x 12″ x 1″. Custom signs with handwritten inscriptions. I paint the rose as an optional feature. You can display them on the wall, or at the entrance of your home.
I custom hand paint in acrylics personalized welcome plaques from the pictures of your choice. You can see in the samples of my previous orders the attention paid to details. I capture the essence of the animals, You'll love them, as did  9000+ customers leaving 5* reviews.
Customized Welcome Plaques
I will need a good picture of your doggy clearly showing the head, eye, and fur colors. I'll email you the photo of the welcoming plaques with pet portraits for your approval. I glaze it upon your OK. After I seal it no more changes are possible.
I'll ship your welcome plaques insured with tracking. Enjoy your wooden welcome signs and please leave a review.
Customer Reviews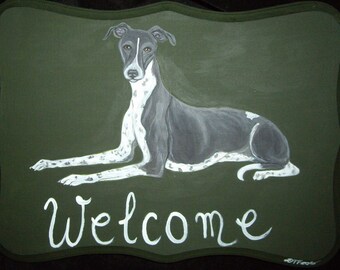 Papillon Dog Custom Painted Welcome Sign Plaque Home decor Wall Decor 
Love the custom plaque! Thanks!!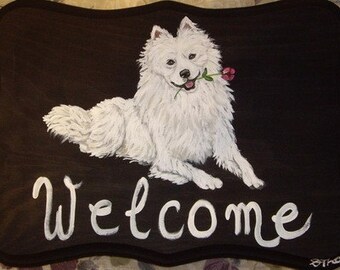 American Eskimo Dog Custom Painted Welcome Sign Plaque Painting Home Decor