Doggie Merch 
Doggie merch luxury genuine leather, black or red checkbook covers. Custom hand-painted dogs, any breed, pure or mixed, young or old.
Custom Checkbook Covers
It is important to send an excellent picture. Not having the dog in front of me, the only thing I can paint is what I see. I'll paint your animal's portrait in the same position as in the picture, same facial expression. In any other position, everything changes. I won't be able to match fur color variations.
Conclusion
I'll email the photo of your dog custom checkbook covers for approval. I can make minor changes. Please reply promptly. Upon your approval, I glaze the product. No future changes are possible.
I'll ship it insured with USPS and you'll get e tracking info. Enjoy your doggie merch and please take a minute to leave a review.
Customer Reviews
Outstanding! Just like the checkbook covers with the Golden Retriever head on it, I wanted the same picture on a glasses case, but on a style of case that was not offered with that design. She was able to do the picture I wanted on the style case I wanted and it did not take any extra time at all to complete. Communication was fast and accurate and the case arrived within a week or so
from first communication to arrival of the case. I will be back for more items as the need arises. The first checkbook cover I ordered from her many years ago (7-9) finally gave up the ghost on the edges and just plain wore out, but the picture on it was still as nice as the day it arrived. I don't know what she uses to seal it but it is incredible so I ordered another CB cover last Christmas, and now the eyeglass case. Buy with confidence.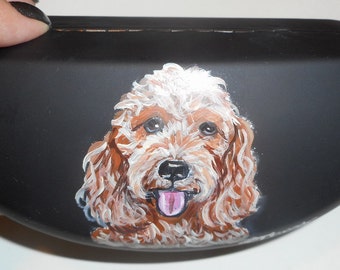 Golden Retriever Dog Custom Hand Painted Eyeglass Case Vegan Sunglass Case