Painted Rocks 

These painted rocks I selected with care, as close as possible. I will custom hand paint your dog rocks, using non-toxic acrylic paints, from a picture provided by you.
You'll cherish my life like dog-painted rocks and be proud to show to friends and family. Please choose an excellent picture showing all the details that are unique to your dog, like facial expression, ears, and so on.
Custom Dog Painted Rock
Upon painting the pooch rock I'll send you an email for your approval. Once you approve the painted rock, I'll apply the protective coating and ship it the next business day.
Enjoy your new painted rock and please take a minute to leave a review.
Cat Painted Rocks
Inspired by your photos, I'll paint your cat's portrait on a medium-size river rock. All my cat portraits painted rocks are a realistic interpretation of your fur babies, they'll look the same as in the photos provided by you. I'll send you an email with the painted rock for your approval. Please choose a clear photo showing the face, eyes, and fur colors.
Customer Reviews
Very cute. Immediately shipped. I love my purchase.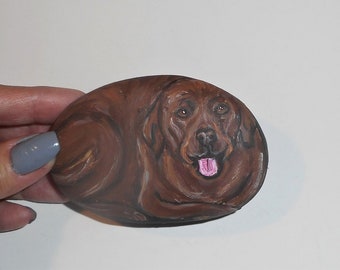 Chocolate Labrador Retriever Dog Rock
soxylady2 on Sep 13, 2014
Nice little Christmas goodie for our Westie-owning neighbors!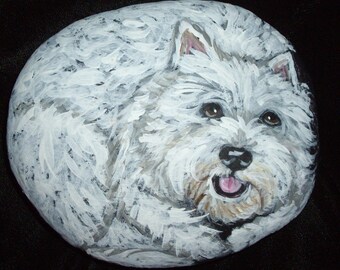 West Highland White Terrier Hand Painted Rock
Anonymous on Jul 13, 2013
My friend LOVED this one-of-a-kind Bichon rock for her bday. Major win! Thanks again.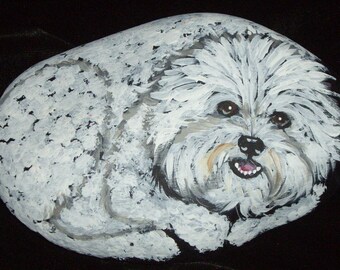 Bichon Frise Dog Hand Painted Rock