Pet Jewelry For Humans 
Pet jewelry for humans is a unique trend that has achieved immense demand.
People can have a customized dog necklace or a bracelet with their cat image on it.
Pets are not solely a perfect company, but also provide emotional support to owners. 
Although many creatures we can domesticate, cats and dogs have invariably been a favored choice. 
Owners show them an unequivocal devotion to where they have matching jewelry. 
These are handmade articles, cherished by owners. 
Pet jewelry for humans can also be a splendid present for your pet-loving friend. 
Cat Jewelry For Humans
Cats are by far the most owned animal in the world because of their soft and cute appearance. 
Most domestic cats have a bell around their neck, but their owners like to have a cat necklace with a pendant 
or a trinket of their favorite feline. 
The most preferred cat jewelry for humans has a pendant on which their favorite is the cat's portrait. 
These pendants comprise wood or ceramics, and I personalize them to the owner's liking. 
Cat-themed gifts are appropriate for cat lovers. 
Dog Jewelry 
As the old saying goes, "Dogs are man's best friend," the proprietors are very passionate about them. 
Dogs are low-maintenance pets, giving back a lot of affection.
Owners take pride in them and would often get customized dog necklaces.
Dog jewelry is a highly popular article and can be pricey. 
Dog lovers can get a portrait painted on ceramic or metal and produced as a pendant.
The dog-themed jewelry could in any shape and size. 
Conclusion
Felines and hounds owners develop an extremely special bond with their caresses. 
Pet jewelry for humans is a good way to let everybody know about that bind as well.
Customer Comments
Patti AnnMarie on Aug 16, 2019
The cutest bracket. Loved it. Fast shipper. Beautiful art designs. Great quality. Pleasure to do business with.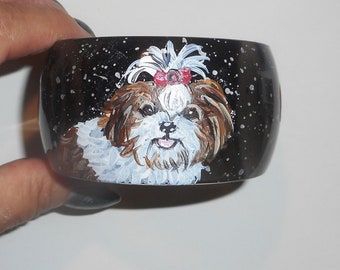 Shih Tzu Dog Hand Painted Bangle Bracelet Jewelry for Women
maryanne on Dec 14, 2019
What a gorgeous bracelet this is!! The husky is absolutely perfect, and the shipping was lightning fast !!! I highly recommend this shop to anyone that loves unique and quality jewelry!!!!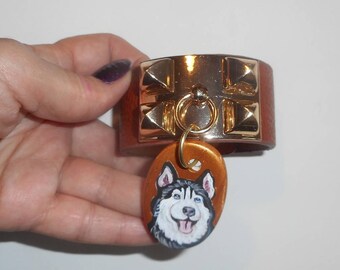 Siberian Husky Dog Hand Painted Leather Cuff Bangle Bracelet Ceramic Charm
I was very pleased with this item. It was just as described and it arrived in a very timely manner. The seller was also available in case I had any questions or concerns. I would order from this seller again!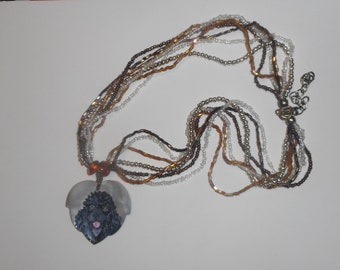 Black Poodle Dog Beaded Necklace Hand Painted Reversible Pendant Jewelry