Pet Purses Custom Portraits
Pet purses, crossbody purses, shoulder purses, small pet carriers, and wristlet purses hand-painted with portraits of dogs and cats.
They make all pet purses of simulated leather (some people call them vegan). I paint all bags with special paints that are resistant to wear and tear. All purse orders placed before EST 9 am I ship the same business day, including Saturdays.
If you prefer your own pet painted, I have some unpainted purses. Contact me for details. As well.
I will paint your handbags, totes, or purses if that's what you're looking for. You must email a wonderful photo of your pet.
 Cat Pet Purses
Cat purses are a splendid gift for cat lovers. You can choose between a Tortoiseshell cat handbag,
 Tabby cat wristlet purse, Tuxedo cat shoulder bag, or Black cat purse. All bags
have gorgeous lifelike cat portraits representing the breed.
Dog Painted Bags 
Gorgeous hand-painted portraits on dog purses. Choose between Black Chihuahua dog wristlet purse, Black Pomeranian shoulder bag pet purse, Jack Russell Terrier dog handbag, Chihuahua Dog Shoulder Handbag, or West Highland White Terrier Westie Dog Handbag.
Customer Comments
Beautiful painting. So lifelike. As a owner of a tri I can judge👌 great artist. Bag is a good size not to big not to small. Shipping was super fast. Thank you for a wonderful item.
King Charles Cavalier Spaniel Dog Handbag Purse Shoulder Bag Hand Painted Vegan Leather
Gift from my husband…absolutely beautiful! I would have sworn this was my own Airedale!!
Airedale Terrier Dog Hand Painted designer Handbag Purse Bag Vegan
I love this bag. Check out the schnauzer. I accidentally hit one star on a BEAUTIFUL necklace she made. Follow her, especially dog lovers. She is one of us. Paula Parker and Lucy 🐕 the hand painted necklace is one of a kind. I'll be showing off bag a necklace at the world's biggest schnauzer fest in Rome GA in Sept.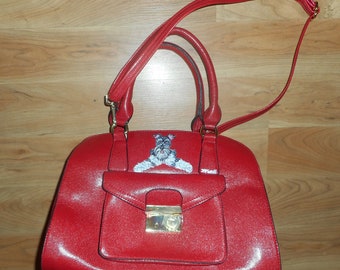 Miniature Schnauzer Dog Hand Painted Leather Handbag Red Purse